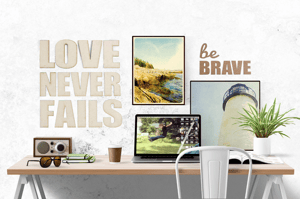 $

80.00
Love Never Fails! Approx. 32.5 x 35 inches; a perfect statement piece for your wall!
Our unique canvas covered letters start with environmentally friendly and completely safe eucalyptus board. Trees are grown in sustainable farms, harvested, ground into pulp, then heat pressed into 1/8 inch thick boards. No glue or formaldehyde used! (That sort of thing is important to us).

Then we bond a high quality natural colored canvas to the board. Now it is ready to be sent to the laser to be cut into letters for our wall statement pieces. Because the laser actually burns through the wood and canvas, it leaves a slightly burned edge for a great vintage look.

As you work with your letters remember that touching the blackened edges can transfer smudge marks to the top canvas, so be careful how you handle the letters.

You can hang your letters easily by using Command Strips. Some letters require only one, but some need two to make the letter balance.
It comes in plain canvas-covered wood but you can paint it as well, or you can order it in plain but paintable wood for $50; just send us a custom request!